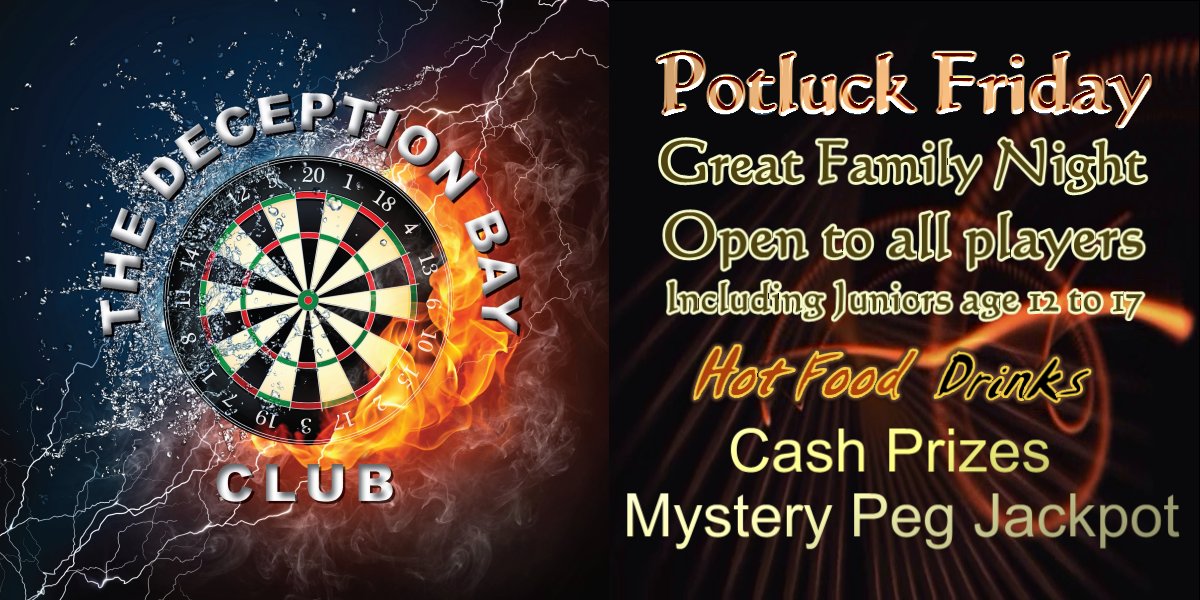 Potluck Friday is open to all players and is a great family night.
Juniors 12 to 17 Years.
Juniors must be able to put 9 darts into the board.
Adults 18 and over.
All names including juniors are randomly picked into teams of two.
Registration is 7:00pm
Starts at 7:30pm
Average end time tends to be about 10:30pm
Player Fee : $5
Would you like the chance of winning the Jackpot?
Just add an additional $1 to the Player Fee to become a Mystery Peg player.
Club Raffles are also run on the night.
You could win a meat tray or Alcohol.
Which prize is on offer differs on each night.
The kitchen is also open.
Look at our menu page to see whats available.
For Kitchen Menu click here
The prizes you can win are :-
1st and 2nd prize depend upon the number of people playing
1st Prize
$20 to $30
2nd Prize
$15 to $20
Men's Highest Peg
$10
Men's Highest Score
$10
Ladies Highest Peg
$10
Ladies Highest Score
$10
Juniors depend on the number of juniors playing
Juniors Highest Peg
$5
Juniors Highest Score
$5
Bonus Prize
Score 180
$5 Instant Prize Once per person per night
Mystery Peg
Jackpot for 06/07/2018
$95 plus Mystery Peg Players on the night
How does Mystery Peg work?
If you peg your game in 1 dart that pegged number goes to your name.
First person to get that pegged number on the night has that number.
Once the number is taken it cannot be associated with another person's name.
At the end of the night all peg numbers go in a barrel.
Peg numbers are all even numbers up to 40 and a bull finish.
If a number with no name is drawn it jackpots to the next night.
All names associated with a number are cleared after the draw.
No names are associated with a number at the start of each Pot Luck Friday night.