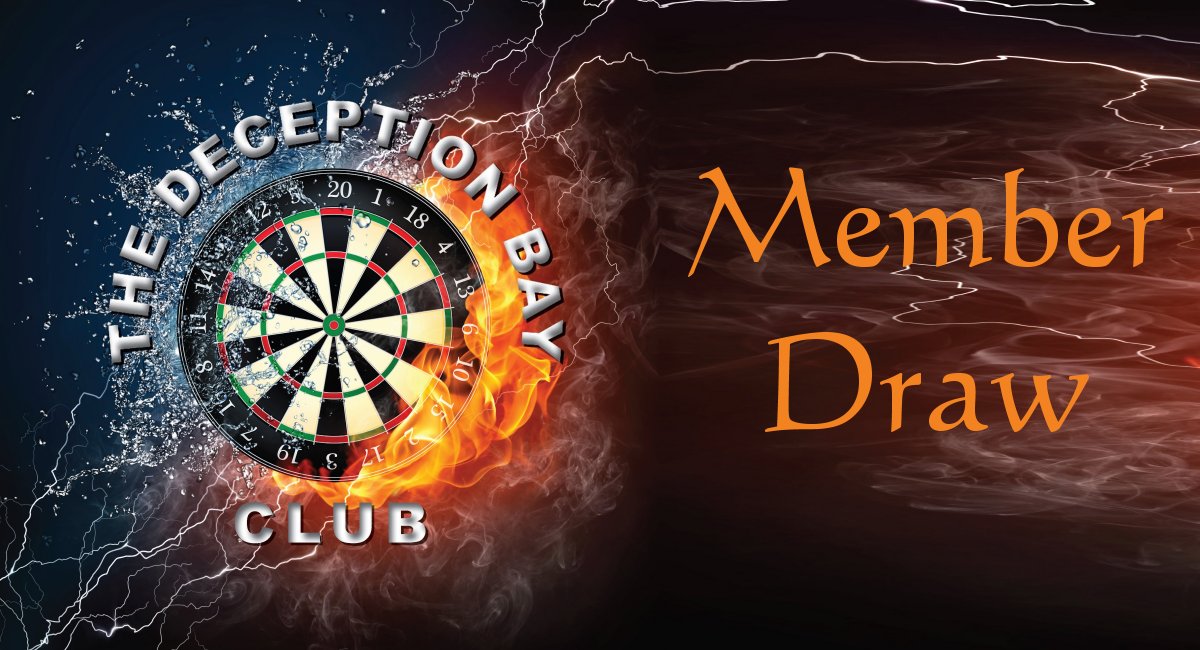 Now is the time to be a member.
Started on Friday 1st of February .
First Jackpot winner was on 5th April 2019.
Matty went home with an extra $500 in his pocket.
2nd Jackpot winner on Friday 13th September 2019.
Turns out black Friday for Alan was lucky for him and he collected $1100.
3rd Jackpot winner on 20th September 2019.
Won the jackpot the next following week of $100.
4th Jackpot winner on 8th November went home with $400
The Jackpot for Friday 13th December will be $300
Will you be there to continue the roll of winners that collect?
If the lucky member has not claimed their prize within 2 minutes of the draw,
$50 will be added to the jackpot for next week.
The member number will be drawn between 7pm and 8:30pm
Proof of current membership, in person, is required to claim the prize.
Not a member.
Just ask at the bar at our venue to apply.
Membership is only $5 per year.
Is your member number one that was not collected?
An example of why you need to be here on every Friday night happened
on 22nd February 2019 where the same member number was drawn again.
Member Draw
| | | | |
| --- | --- | --- | --- |
| Date | Amount | Member # | Was it collected |
| 01/02/2019 | $50 | 387 | Not Collected |
| 08/02/2019 | $100 | 460 | Not Collected |
| 15/02/2019 | $150 | 191 | Not Collected |
| 22/02/2019 | $200 | 191 | Not Collected |
| 01/03/2019 | $250 | 101 | Not Collected |
| 08/03/2019 | $300 | 134 | Not Collected |
| 15/03/2019 | $350 | 225 | Not Collected |
| 22/03/2019 | $400 | 509 | Not Collected |
| 29/03/2019 | $450 | 431 | Not Collected |
| 05/04/2019 | $500 | 209 | Matty Collected |
| 12/04/2019 | $50 | 480 | Not Collected |
| 19/04/2019 | | | Not run as closed for Good Friday |
| 26/04/2019 | $100 | 376 | Not Collected |
| 03/05/2019 | $150 | 526 | Not Collected |
| 10/05/2019 | $200 | 479 | Not Collected |
| 17/05/2019 | $250 | 482 | Not Collected |
| 24/05/2019 | $300 | 502 | Not Collected |
| 31/05/2019 | $350 | 452 | Not Collected |
| 07/06/2019 | $400 | 373 | Not Collected |
| 14/06/2019 | $450 | 129 | Not Collected |
| 21/06/2019 | $500 | 370 | Not Collected |
| 28/06/2019 | $550 | 601 | Not Collected |
| 05/07/2019 | $600 | 101 | Not Collected |
| 12/07/2019 | $650 | 446 | Not Collected |
| 19/07/2019 | $700 | 461 | Not Collected |
| 26/07/2019 | $750 | 302 | Not Collected |
| 02/08/2019 | $800 | 221 | Not Collected |
| 09/08/2019 | $850 | 127 | Not Collected |
| 16/08/2019 | $900 | 193 | Not Collected |
| 23/08/2019 | $950 | 173 | Not Collected |
| 30/08/2019 | $1000 | 659 | Not Collected |
| 06/09/2019 | $1050 | 638 | Not Collected |
| 13/09/2019 | $1100 | 352 | Alan Collected |
| 20/09/2019 | $100 | 560 | Susan Collected |
| 27/09/2019 | $100 | 170 | Not Collected |
| 04/10/2019 | $150 | 218 | Not Collected |
| 11/10/2019 | $200 | 637 | Not Collected |
| 18/10/2019 | $250 | 130 | Not Collected |
| 25/10/2019 | $300 | 433 | Not Collected |
| 01/11/2019 | $350 | 689 | Not Collected |
| 08/11/2019 | $400 | 194 | Robert Collected |
| 15/11/2019 | $100 | 178 | Not Collected |
| 22/11/2019 | $150 | 640 | Not Collected |
| 29/11/2019 | $200 | 634 | Not Collected |
| 06/12/2019 | $250 | 326 | Not Collected |
| 13/12/2019 | $300 | ??? | |