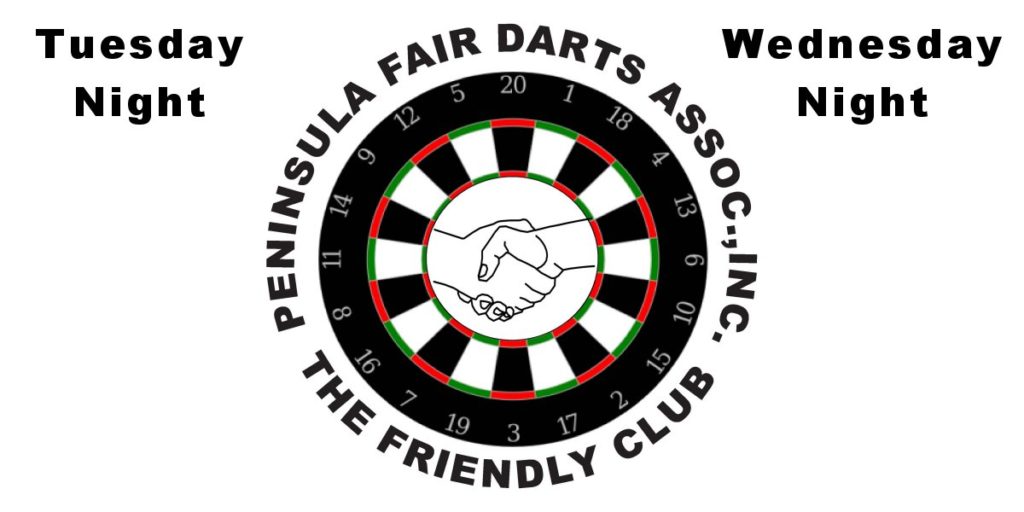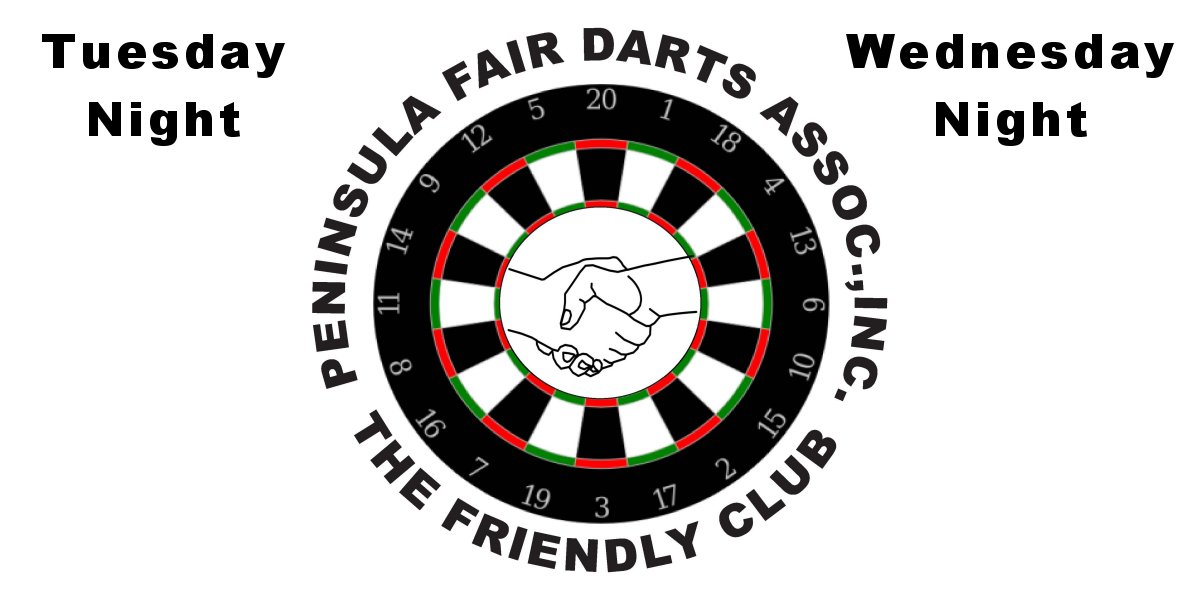 Peninsula Fair Darts Association Inc. is a darts club with a social atmosphere.
We play Tuesday and Wednesday nights.
Start time is 7:30pm
We play a structured competition format.
All are welcome.
For Tuesday and Wednesday Competitions you need to join a team and it is a weekly commitment.
Team nominations for Season 2 2023 to be handed in by 30th May 2023.

If you are not a member of a team or coming in mid-season and would like to join,
Come down on a Tuesday or Wednesday night.
Ask at the bar if they know of any team looking for players.
If you are just looking for a game of darts instead of competition darts,
checkout our Potluck Friday page.
Tuesday Competitions
Season 1 – 3rd January 2023 to 6th June 2023
Season 2 – 13th June 2023 to 14th November 2023
Download Teams Nomination Form Tuesday
Wednesday Competitions
Season 1 – 4th January 2023 to 7th June 2023
Season 2 – 14th June 2023 to 15th November 2023
Download Teams Nomination Form Wednesday
Club Championships

Open to all financial members of Peninsula Fair Darts Association Inc.
Register on the day.
Cost – $5 per event per person
Men's and Ladies Singles – TBA
1:30pm – Roll Call
2:00pm – Start
Men's, Ladies and Mixed Doubles – TBA
9:30am – Roll Call
10:00am – Start
Mixed Doubles will start once Men's and Ladies Doubles have concluded
Approximate starting time would be 1:00pm –  2:00pm
Presentation Dinner
Saturday 9th December 2023

Fees
Seasonal
Play 1 night $10
Play 2 nights $15
Nightly game fee $5
The Deception Bay Club Membership ( January to December ) $5
Annual General Meeting
Next AGM will be held on Wednesday 15th March 2023 at 7:00 PM.
As we have more than 1 nominee for some of the positions, there will be ballots.
Please be early to sign into meeting.
No dart games will start until meeting is closed.
Please Note:
This is for the election of your new Executive Committee & General Committee for 2023,
members attendance would be appreciated.